Posts Tagged 'Philippines'
HARVEST TIME, HUBO MOMENT: "For achieving the highest levels of artistic excellence and bringing honor to the country", CEO and Resident Director Will Fredo received an ANI NG DANGAL (Harvest of Honor) award during the National Commission of Culture and the Arts awarding ceremony, Friday, March 8, at the Cultural Center of the Philippines. Our very own Fredo was recognized for his Best Director win for HUBO's "The Caregiver" at the 2012 International Film Festival Manhattan NYC. Fredo was one of 16 recipients in the field of cinema along with Ms Nora Aunor, Brillante Mendoza, and Auraeus Solito.
– – –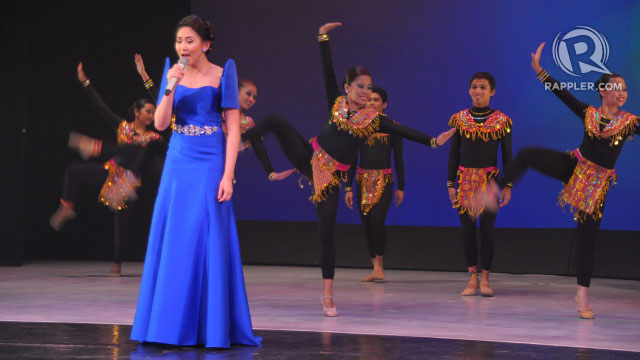 SING FOR ART. New NCCA Goodwill Ambassador for Music Sarah Geronimo sings the "Ani ng Sining" themesong. All photos by Andrew Robles
MANILA, Philippines – The 5th Ani ng Dangal Awards held Friday, March 8, at the Cultural Center of the Philippines was a night of intensely moving art in all its forms.
Nothing less can be expected of the awards ceremony, the culminating event of the 2013 Philippine Arts Festival held by the National Commission for Culture and the Arts (NCCA).
NCCA Chairman Felipe de Leon Jr led the ceremony to recognize Filipinos who have brought honor to the country by winning in international competitions in their respective fields.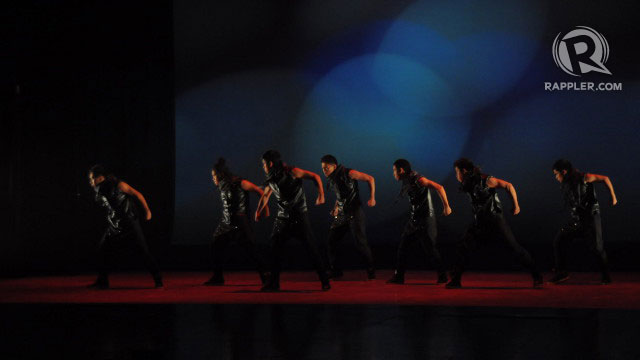 THE CREW. Award-winning hip hop group The Crew dance for the audience
In his welcoming remarks, he declared, "The arts lead the way for all other kinds of development. Our artists, just like the artists of the European Renaissance, will always be at the vanguard of human progress."
Among the winners were actresses Nora Aunor and Shamaine Buencamino, singer Sarah Geronimo, directors Brillante Mendoza ("Thy Womb"), Marty Syjuco ("Give Up Tomorrow") and Marlon Rivera ("Ang Babae sa Septic Tank").
The Cinema category was blessed with the most number of awardees with a total of 15.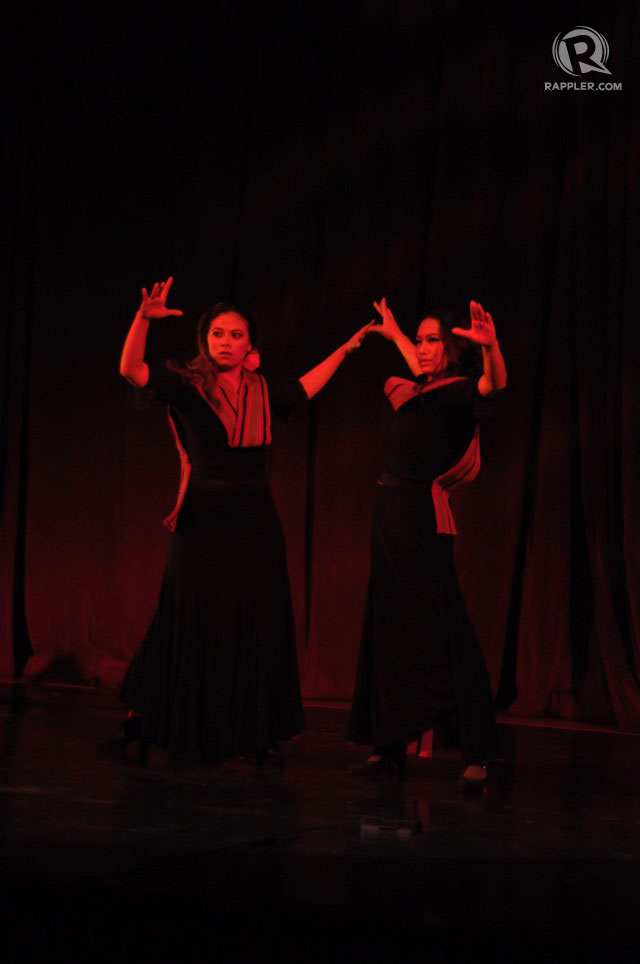 CHEMISTRY. Dancers Maradee de Guzman and Liza Diño captivate audiences with a powerful performance from Will Fredo's latest movie IN NOMINE MATRIS.
The night was peppered with performances by some of the winners themselves.
Sarah Geronimo performed the "Ani ng Sining" theme song and was announced as the new NCCA Goodwill Ambassador for Music.
Best Dancers at the Cheonan World Dance Competition 2012 Peter Laurent Callangan and Irina Feleo performed their award-winning indigenous dance.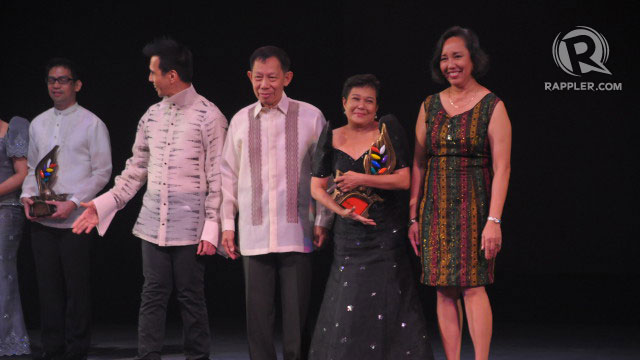 SUPERSTAR. Nora Aunor smiles through happy tears as she accepts her award beside NCCA Chairman Felipe de Leon and other members of NCCA
The hip hop dance group The Crew regaled audiences with their upbeat, modern choreography. The group won the Gold Medal at the 2012 World Hip Hop Dance Championship held in Las Vegas.
Operatic singer Joseleo Logdat, Grand Prix winner at the 6th Yokohama International Music Competition in Japan moved the audiences as well with two songs.
Here is the list of winners and their international achievements:
Architecture & Allied Arts
Aidea Philippines, Inc. – The openBIM Build London Live 2012 Award
Kenneth Cobonpue – Top Pick Award for Cabaret Sofa, American Society of Interior Designers Architectural Digest Home Design Show
Cinema
Nora Aunor – Best Actress for "Thy Womb," 6th Annual Asia Pacific Screen Awards and Bisato d'Oro Award for "Thy Womb," Premio Della Critica Indipendiente
Shamaine Buencamino – Best Supporting Actress for "Niño," 6th Asian Film Awards
Lav Diaz – NETPAC Prize for Best Asian Film for "Florentinahubaldo," CTE 13th Jeonju International Film Festival
Lawrence Fajardo – Best Feature Film for "Posas," Hanoi International Film Festival 2012
Charles Andrew Flamiano – Winner in the 14-17 Age Category for "Letting Go, Letting God," Faith Shorts 2012 of Tony Blair Faith Foundation
Will Fredo – Best Director for "The Caregiver," International Film Festival Manhattan 2012
Christopher Gozum – Le Prix des Signes for "Anacbanua," 10th International Festival Signes de Nuit
Brillante Mendoza – Best Director for "Thy Womb," 6th Annual Asia Pacific Screen Awards
Marlon Rivera – NETPAC-Asian Film Prize for "Ang Babae sa Septic Tank," 6th Annual Asia Pacific Screen Awards
Adrian Sibal – Grand Prize for "The Rivals," ADB MyView Asia-Pacific Video Contest 2012 for Asia Clean Energy Forum 2012
Eduardo Roy Jr – Lotus du Jury for "Bahay Bata," 14th Deauville Asian Film Festival
Auraeus Solito – Grand Prize for "Busong," National Geographic All Roads Film Festival
John Paul Su – Best Asian-American Filmmaker East Region Winner for "Pagpag," Directors Guild of America Student Film Awards
Marty Syjuco – Best Documentary for "Give Up Tomorrow," Anchorage International Film Festival 2011
Brandon Relucio and Ivan Zaldarriaga – Best Picture for "Di Ingon 'Nato," Macabre Festival Internacional de Cine de Horror de la Ciudad de Mexico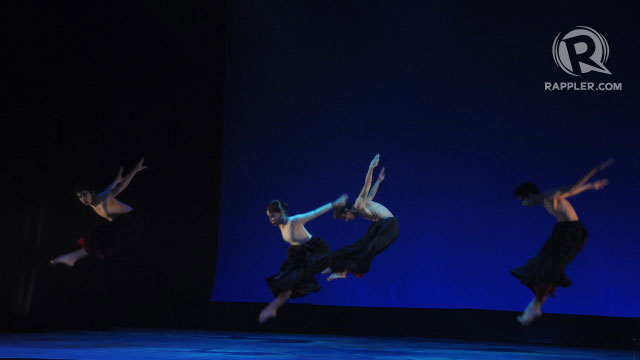 ENTHRALLING. The Halili-Cruz Ballet Company performs an award-winning dance
Dance
Candice Adea – 1st Prize, Senior Women's Divison, Helsinki International Ballet Competition
Peter Laurent Callangan – Best Dancer, Couples Category, Cheonan World Dance Competition 2012
The Crew – 1st Place, 2012 World Hip Hop Dance Championships
Irina Feleo – Best Dancer, Couples Category, Cheonan World Dance Competition 2012
Halili-Cruz Ballet Company – Grand Pize Winner, 14th Asia Pacific Dance Competition
Dramatic Arts
Peter de Guzman – Best Choreographer, 2012 L.A. Weekly Theater Awards
Literary Arts
Romulo Baquiran Jr – S.E.A. Write Award, Southeast Asian Writers Awards 2012
Multi-disciplinary Arts
BBDO Guerrero – Grand Prix, Public Service Advertising, Ad Stars 2012
Kara David – UNICEF Child Rights Award, Asia Broadcasting Union Awards 2012
Sarah Geronimo – Best Asian Artist, 2012 Mnet Asian Music Awards
Wansapanataym – Prize of the Children's Jury, 7-11 Fiction, Prix Jeunesse International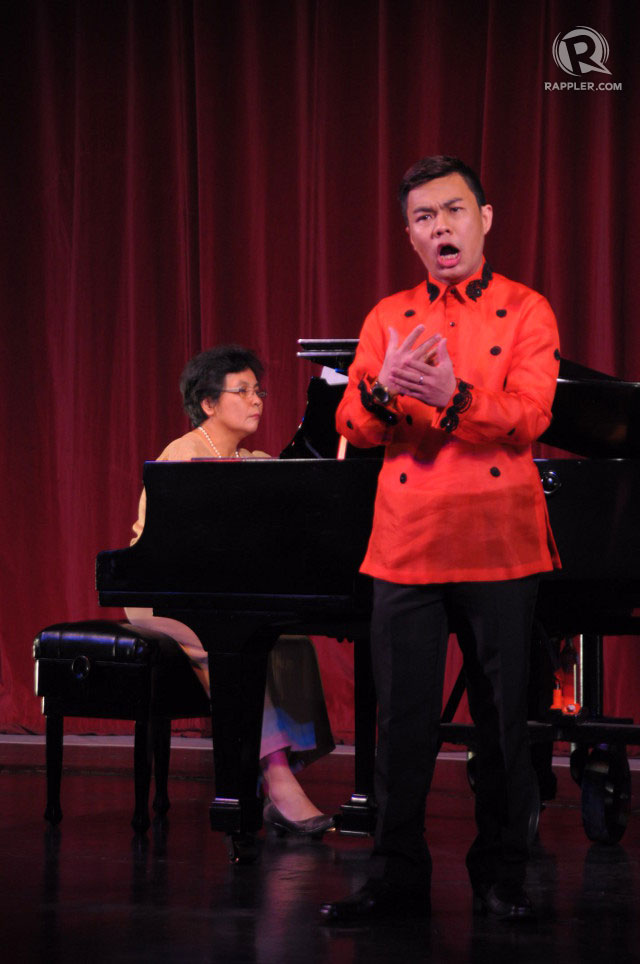 UPLIFTMENT. Singer Joseleo Logdat and pianist Belinda Baltazar perform the night's doxology
Music
Baao Children's Chorus – 1st Place, 18th Certamen International Juvenil de Habaneras y Polifonia
Edgardo Manguiat – 1st Place, 18th Certamen International Juvenil de Habaneras y Polifonia
Imusicapella – Grand Prix Winner, 2012 Busan Choral Festival and Competition
Joseleo Logdat – Grand Prix, 6th Yokohama International Music Competition
Miriam College High School Glee Club – Gold IV Diploma, Youth Choir of Equal Voices World Choir Games 2012 and Gold V Diploma, Musika Sacra World Choir Games 2012
Muntinlupa Science High School Chorale – Gold V Diploma, Mixed Youth Choirs Category, 1stGuangzhou International Open Competition
Novo Concertante Manila – Grand Prix, 1st Xinghai Prize International Choir Competition and Grand Prize, 2012 Asia Cantate International Choral Competition
Samiweng Singers – Gold IV Diploma, Folklore, World Choir Games 2012
Arwin Tan – Outstanding Conductor Prize, 2012 Asia Cantate International Choral Competition
UP Concert Chorus – 1st Prize, 30th Festival Internacional de Musica de Cantonigros
UP Singing Ambassadors – 1st Prize, Romantic Period Music, LX Concorso Polifonico Internazionale Guido d'Arezzo and 1st Prize, Folklore Music, LX Concorso Polifonico Internazionale Guido d'Arezzo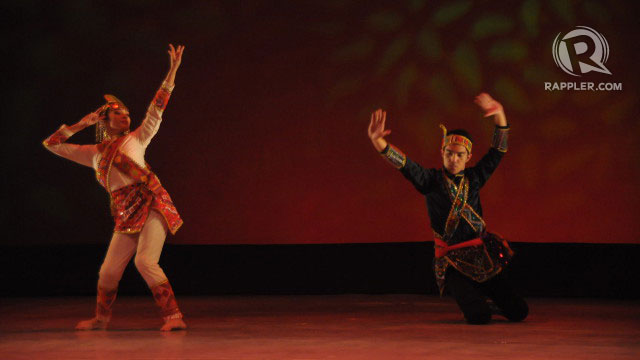 WINNING PERFORMANCE. Irina Feleo and Peter Laurent Callangan perform the dance that won them awards at the Cheonan World Dance Competition 2012
Visual Arts
George Tapan – PATA Gold Award for Travel Photograph, Pacific Asia Travel Association 2012 Gold Awards and Winner for Places Category, National Geographic Photo Contest 2011
Jamille Bianca Aguilar – 1st Prize, Fine Arts High Schools' "From Green to Blue" Competition of Children's Art Work
Joel Forte – 1st Prize, ADB's CLICK: Capturing Images of Inclusive Growth and 1st Place, Tumbhi's 2012 Nature and Wildlife Photography Contest
Zohayma Montañer – Islamic Artist of the Year, Pearl International
Trisha Co Reyes – 1st Prize, 24th Annual Lions International Peace Poster Contest
Engr Jaime Singlador – 1st Place, ASEAN Secretariat Photo Competition
Jamia Mei Tolentino – Grand Prize, 2012 Wrecks of the World International Art Contest
Jophel Botero Ybiosa – Grand Prize, 24th Annual Lions International Peace Poster Contest
First seen in RAPPLER, Winners Perform at Ani ng Dangal Awards by Pia Ranada http://www.rappler.com/life-and-style/23443-winners-perform-ani-ng-dangal-awards